List of goods announced for customs inspections
( December 17, 2014 | 1,305 views )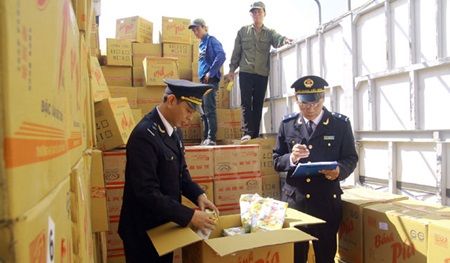 The Ministry of Industry and Trade has announced the list of products that are exported or imported which need to undergo checks for quality, technical standards and food safety before being given customs clearance.
The list, released this month, included goods controlled by the ministry, such as textile and garments, steel and products made of steel, industrial equipment and machines. Specific industrial equipment that can pose a danger; food-based products; and industrial, chemical and explosive materials were also listed.
The Science and Technology Department was asked by the ministry to propose goods for inclusion in the list.
Meanwhile, the Prime Minister has also urged the Ministry of Finance and other relevant ministries to resolve time-related issues regarding grant of customs clearance to products meant for import or export.
According to the Prime Minister's direction, the Ministry of Finance and the General Department of Customs have come up with some solutions to simplify administrative procedures and thus create favourable conditions for import and export enterprises.
The General Department of Customs said that by the end of this year and also next year, the customs sector will be provided solutions on strengthening management and administrative reform to reduce the implementation period required to complete the customs procedures for import and export products at an average rate in ASEAN-6 countries.
The department will actively implement solutions to reform administrative procedures in the future. The department will review and bring in measures ensure measures to make administrative procedures transparent and lessen the paperwork in official documentation, simplify the steps, develop ASEAN and national one-stop shop mechanism and continue developing the second phase of the automatic customs clearance project.
 Source: http://bizhub.vn
Related posts