New rules to enhance management of foreigners' entry and exit
( August 25, 2015 | 1,380 views )
The Government on August 6 issued a regulation prescribing principles, contents and forms of coordination among, and responsibilities of, ministries, ministerial-level agencies and local administrations in management of entry, exit, transit and residence of foreigners in Vietnam.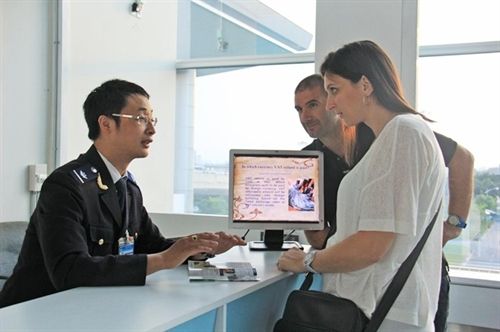 Under Decree No. 64/2015/ND-CP, ministries, sectors and localities are required to proactively, regularly and closely cooperate with one another in creating favorable conditions for foreigners to enter, exit, transit or reside in Vietnam in accordance with law, ensuring centralized, unified and non-overlapped direction and management. Of them, the Ministry of Public Security will take major role in performing state management of entry, exit, transit and residence of foreigners in Vietnam.
Provincial-level People's Committees are required to work closely with immigration management agencies of provincial-level police departments in managing foreigners' residence in their localities.

The Ministry of Foreign Affairs is tasked to direct competent agencies to grant Vietnamese visas overseas. The ministry is also asked to urge its attached units to transmit temporary residence registration information of foreigners subject to temporary residence registration with the Ministry of Foreign Affairs to immigration management agencies under provincial-level police departments within 12 hours after these foreigners register their temporary residence.

The Ministry of National Defense is responsible to direct its immigration control units to postpone the grant of visas and exchange information with immigration agencies in case they discover any complicated issues related to national defense and security or signs of document forgery.

The new regulation will take effect on October 15, 2015.
Source: http://vietnamlawmagazine.vn/
Related posts