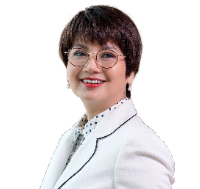 Before founding ATS Law Firm with other partners and being Director cum Managing Partner of ATS law firm, Mrs. Vu Thi Thu Ha has over twenty-year working experience as In-house Lawyer for leading groups/companies in the fields of real estate, construction, energy, trading, Senior Consultant of Ernst & Young Vietnam (Advisory services), National Project Co-ordinator – National Blood Safety Programme (World Health Organization).
Mrs. Vu Thi Thu Ha has strong legal consulting experiences in corporate, investment projects, M&A, tax, labour, commercial contracts, dispute resolution, business restructuring, setting up enterprise management procedures, human resource management, capacity building of large scale projects, international and domestic enterprises, groups and non-government organizations.
EXPERTISE
▶ Consult on enterprise, commercial, construction, real estate, labour, taxation
▶ Contract (commercial contract, EPC contract, advisory management contract, supplying copyright contract, technical consultancy contract, Import-Export contract)
▶ Human resource management, Enterprise management procedures
▶ Business restructuring
▶ Litigation
▶ Quality management under ISO 9000 standards
▶ Languages: English and Vietnamese
QUALIFICATIONS AND MEMBERSHIP
▶ Part-time lecturer at Judicial Academy (consultancy skills, corporate, contract, labour)
▶ Lawyer Card and Lawyer Practice License – Member of Hanoi Bar – Vietnam Bar Federation
▶ Law Master Degree issued by Hanoi Law University
▶ Certified as QMS IRCA (United Kingdom) registered Auditor
▶ Certificate of ISO 9000 Auditor training issued by Bureau Veritas Quality International (BVQI)
▶ Certificate of Management of Laboratory in accordance with ISO/IEC 17025 standards issued by Directorate for Standards and Quality
▶ Certificate of Asset Management Officer issued by Ministry of Justice (Vietnam)
CREDENTIALS
▶ Consultancy Project, M&A: Providing legal due diligence report, legal opinions on the wind power plant projects to Indian companies; Consulting on project transfer of Trong Diem Ltd. Company, Technology Development Construction JSC (TDC), Vinh Phuc Import-Export JSC; Consulting M&A transaction between IFI Solutions company and foreign investors, legal consulting on Dak Nong Aluminum Smelter Project.
▶ Contracts: Reviewing, negotiating EPC contracts to build Ethanol plant, PVTex Textile Fiber plant (PetroVietnam); Preparing, negotiating long-term lease contract for Endovina Tower (Ho Chi Minh City), Oriental Tower (Hanoi), management contract for Oriental Pearl Hotel, design contract with Nicklaus (USA) for 36 holes golf course project, Import-Export Contract for Vaude Vietnam Ltd. Company, management and technical consultancy contracts for Cam Ranh Bay project, Movenpick Resort Nha Trang project of Eurowindow Nha Trang Ltd. Company.
▶ Finance, Banking: Drafting, reviewing, negotiating loan contracts and other collateral contracts related to loans for many projects of BIDV, Vietcombank such as BT project of renovation and construction of sewage systems and reciprocal project on construction of urban area in Hanoi, project on construction of new urban area in Hoang Mai dist., Hanoi, project on construction of housing complex in Cau Giay dist., Hanoi, BT project of Ky Dong Street and 02 reciprocal projects, Vinpearl Villas & Resort 2; Consulting, reviewing and checking the legality of many standard contracts for business operation of CCB – HCMC; Amending the codes of branches of one subsidiary company of MB Bank; Consulting Eximbank India on extension of facility agreement, mortgage agreement, standby letter of credit in Vietnamese laws; Drafting, reviewing, negotiating syndicated loan agreements for large-scale hydropower projects; Consulting on conducting capacity building program under Technical Assistance Project for Vietnam Development Bank in Water Supply Programme devoted to water supply in small and medium towns in the Mekong Delta region.
▶ Bidding: Providing the procurement checking services for many projects of an NGO; Providing legal report on the eligibility of joint venture bidder during the negotiation of bid package sponsored by Asian Development Bank (ADB) (over than USD 6 million).
▶Litigations: Representing clients to settle disputes related to labour, commercial, civil, construction, tax matters at the competent courts/arbitrations including Japanese invested-capital company (dealership agreement); Indonesia invested-capital company (lease contracts); securities company (BCC contrac); Vietnam Football Federation, an NGO, Vietnamese pharmacy company (labour contracts); Crystal Martin Vietnam; Electrolux; PVMachino; disputes between client and PricewaterhouseCoopers Vietnam.
▶ HR Management: Consulting domestic and foreign companies, groups such as Focus Vietnam, Bioseed Vietnam, Olympus Vietnam, Wurth Vietnam, TERMO, POSCO, VFF, Huawei Vietnam, Ford Vietnam, Crystal Martin (Vietnam) and several commercial banks about human resource management matters including establishing/ reviewing employee handbooks, collective labour agreements, standard labour contracts, salary scales, training agreements, labour contract termination procedures, labour discipline procedures, work permit processing.
▶ Quality management: Consulting to set up quality management system under ISO 9000 standards for Rohde & Schwarz (in Malaysia).