FDI disbursement up 5.9% in 10 months
( December 2, 2014 | 1,471 views )
Disbursement of foreign direct investments (FDI) posted an encouraging 5.9-per cent increase to US$10.15 billion in the first 10 months of 2014.
The latest report from the Ministry of Planning and Investment's Foreign Investment Agency also revealed that in the first 10 months of the year, Viet Nam attracted FDI worth $13.7 billion, or 71.2 per cent of total FDI in the same period last year.
Of this total, exactly $9.95 billion came from more than 1,300 newly-licensed projects and the remainder, from 469 ongoing projects which increased their capital.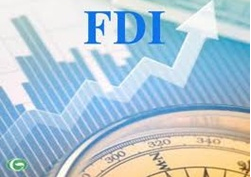 Manufacturing and processing remained the hottest sector to foreign investors, attracting the lion's share of FDI at $9.7 billion, or 70.8 per cent of the nation's total registered capital. Estate trading ranked second with $1.22 billion, and construction industries ranked third with $1.03 billion.
Of the 56 countries and territories investing in Viet Nam, South Korea was the leading source, with $3.6 billion or 26.3 per cent of the country's total FDI, followed by Singapore with $2.64 billion or 19.3 per cent, Hong Kong with $1.67 billion or 12.2 per cent, and Japan with $1.66 billion or 12.1 per cent.
From January to October, foreign investors pumped capital into 50 provinces and cities nationwide, with HCM City taking the lead with $2.85 billion. Northern Bac Ninh province came in next with $1.38 billion while the southern provinces of Dong Nai and Binh Duong ranked third and fourth, with $1.37 billion and $1.36 billion, respectively.
According to the agency, the foreign-invested sector posed a trade surplus of $13.8 billion in 10 months as its exports reached $82.48 billion, a 13.6-per cent year-on-year increase, and its imports reached $68.66 billion, a 10.7-per cent year-on-year increase. — VNS
Related posts