Foreigners permitted to buy houses in Vietnam
( December 8, 2014 | 1,369 views )
Under article 159 of the law, three groups of foreigners allowed to own houses in Vietnam are those developing housing projects; foreign-invested companies, branches and representative offices of foreign companies, foreign investment funds, branches of foreign banks operating in Vietnam (foreign organizations for short); and foreign individuals allowed to enter Vietnam.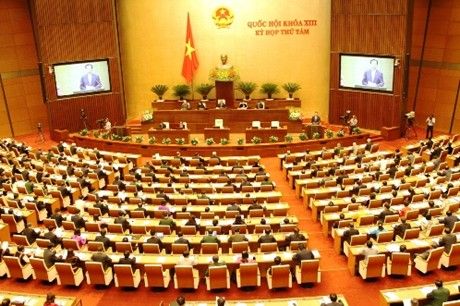 Foreign organizations and individuals can own houses in Vietnam by investing in housing projects in the country; or buying, renting, inheriting apartments or houses and building houses on land lots of residential projects.
Earlier, the right to house ownership for foreigners used to be a controversial issue. When drafting the revised law, many wanted that conditions for foreigners to own houses be tightened for fear of security issues, according to Phan Trung Ly, head of the NA Law Committee.
Foreign organizations and individuals can now easily buy houses in Vietnam as the National Assembly (NA) on November 25 officially passed the revised Housing Law.
Even when the NA voted on the law, of 404 deputies present at the meeting, 28 deputies voted against the law and four others did not cast their vote.
The new regulation is expected to make it easier for foreigners' lives in Vietnam as well as spur recovery of the property market which has been gloomy for years.
Le Hoang Chau, chairman of the HCMC Real Estate Association, said permitting foreigners to buy houses in Vietnam can also be likened to export. Besides, it will facilitate development of many different fields and create jobs for laborers, he added.
In addition, the regulation will help boost sales of the property market and make it busier, especially on the secondary market, and will not leave a negative impact on the segment for low- and medium-income earners as feared, according to Chau.
Nguyen Vinh Tran, general director of Nam Long Investment Corporation, hailed the decision of the NA when opening the door wide for foreigners.
According to Tran, many overseas Vietnamese want to return to Vietnam to spend the rest of their lives after 30-40 years living abroad but their wishes were impeded due to procedures concerning house purchases.
Tran himself is a Vietnamese-American who has worked in Vietnam for more than ten years but still lives in a rent house. Therefore, he wishes to own a house in the coming time.
Economic expert Ho Ba Tinh said permitting foreigners to buy houses is inevitable in the country's international integration process. The concern that foreigners will take hold of the domestic property market is groundless, Tinh added.
Source: sgt/vnn
Related posts