Government determined to accelerate restructuring of the banking system
( April 6, 2016 | 1,318 views )
In the time to come, the State Bank of Vietnam will have to accelerate the comprehensive restructuring of the system of credit institutions and handling of non-performing loans.
This is a task assigned by the cabinet to the central bank under Resolution No. 23/ND-CP on the Government's March 2016 regular meeting.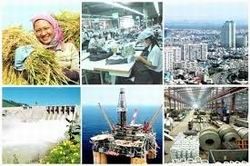 The Government also requests the State Bank to actively and flexibly regulate the monetary policy in close combination with the fiscal policy, curb inflation according to set targets, and ensure the stability of the monetary market. The central bank is also tasked to effectively develop credit programs in the direction of credit expansion in line with safety assurance and credit quality increase, creating easy access to credit for everyone.

The Ministry of Planning and Investment has to work with related ministries, sectors and localities to formulate a plan to restructure the economy during 2016-20, promote public-private partnership in order to lure investment from various economic sectors at home and abroad; and speed up the implementation of solutions for development of small- and medium-sized enterprises.

The Ministry of Finance is assigned to effectively implement tax policies for production and business and boost the application of information technology in reform of tax-, customs- and state treasury-related administrative procedures.

The Government asks the Ministry of Industry and Trade to seek solutions for developing the domestic goods and services market, boosting exports and creating a linkage between domestic and foreign markets so as to set orientations for production, consumption and export activities.

Ministries and sectors, localities and state economic groups and corporations are required to continue the reorganization, equitization and improvement of operational effectiveness of state-owned enterprises; promulgate according to their competence, or submit to competent authorities for promulgation, organization and operation charters of wholly state-owned enterprises; review and supplement the list of enterprises subject to equitization or state capital divestment; and formulate an overall plan for reorganization, renewal and restructuring of state-owned enterprises during 2016-20 for submission to the Prime Minister in the second quarter of this year.
Source: vietnamlawmagazine.vn
Related posts