Legislators discuss new draft laws
( January 5, 2015 | 1,377 views )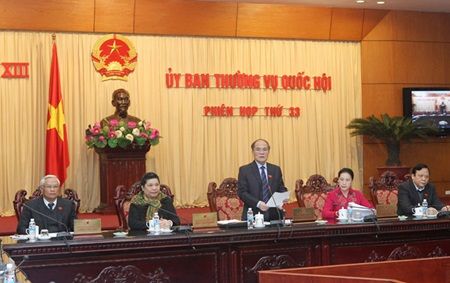 The National Assembly (NA) Standing Committee convened its 33rd session in Ha Noi yesterday under NA Chairman Nguyen Sinh Hung.
During the two-day session, lawmakers are reviewing the outcomes of the 13th NA's eighth plenary session and debating four draft laws and two draft ordinances, focusing on the revised draft Civil Code since it will deal with daily transactions.
Opening the session, NA Chairman Hung said the eighth plenary session was successful, helping strengthen voters' trust in the Party and the State. He emphasised the importance of the 33rd meeting, as it would gather opinions on the working agenda for the NA's ninth plenary meeting in early 2015, which spotlights external relations.
On the same day, the National Assembly Standing Committee discussed the Legislation Law and the amended Law of the Viet Nam Fatherland Front.
Vice Chairman Uong Chung Luu said that adjusting the Legislation Law would take time.
Some suggested keeping the old name as it would match the draft law submitted by the Government to the National Assembly. Others proposed reviewing the entire contents of the law and defining the scope of the law, then submitting it to the National Assembly Standing Committee at the following meeting.
In terms of the Law on Vietnam Fatherland Front, most agreed that they should consult the NA Standing Committee on a number of major issues.
Chairman of the NA Committee on Social Affairs Truong Thi Mai said that the draft law stipulated that the Fatherland Front only participate in the process of building law. She suggested that the organisation also participate in the process of examining and considering the law until it got approval from the National Assembly.
Source: http://vietnamnews.vn/
Related posts