Minister says more efforts needed to enhance business environment
( March 2, 2015 | 1,295 views )
Authorities must make bigger strides this year in improving the country's business environment, said Minister of Planning and Investment Bui Quang Vinh.
The revised investment and enterprise laws passed by the National Assembly last year would stimulate new waves of investment, Vinh said in an interview with Tuoi tre (Youth) Newspaper on the occasion of the lunar new year.
The National Assembly aims with the revisions to create advantageous conditions and minimum market penetration costs for companies, in line with the country's integration process. Other newly issued laws, such as the law on tendering, were sufficiently transparent, Vinh said. And new policies on medicine bidding helped reduce drug prices by 30 per cent.
Vinh also pointed out that while many policies were very open, some decrees and circulars with specific guidelines had complicated them or even conflicted with them.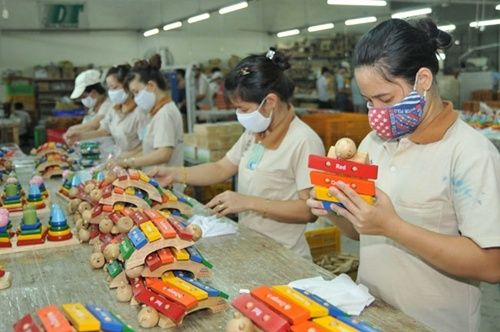 Some officials abuse their positions by targeting certain companies or refusing to correct their errors.
"These things are unacceptable," he said. "I hope the problems will lessen in 2015."
Most small- and medium-sized enterprises still find it difficult to access loans. Pham Khac Hong, head of business development at the electronics company VNPCB, said the firm was "extremely in need" of Government support in training and technology investment.
Pham Ngoc Thai, general director of confectionery company Pham Nguyen, said the Government should assist firms in support industries, which help reduce the need for imports. The 1,000-worker company will have to invest nearly $3 million in machinery for market expansion this year. It wouldn't cost nearly as much if the necessary equipment were produced it Viet Nam, instead of abroad.
He also suggested authorities launch a support programme for exporting to ASEAN countries following current market development trends.
Nguyen Kim Huong, director of Ngo Minh, a trading firm, said her company had to compete fiercely with its Thai counterparts.
"The best method of support is maintaining current macro-economic stability with low and stable interest rates, which help local firms feel secure borrowing capital for production," she said.
The disparity in businesses' performances in different economic sectors was "thought-provoking," Minister Vinh said. Last year, foreign direct investment (FDI) enterprises represented 68 per cent of Viet Nam's total export value, $150 billion.
"This is a success for foreign investment attraction, but looking from the angle of the economy's health, it's worrying," he said.
Local private companies needed increased support so they could become the most important force driving economic growth in the long run, Vinh said. Without such development, Viet Nam would never grow into a solid, self-controlled economy, he added.
"As the Government has defined private businesses as a future backbone for the national economy, it must have policies to materialise this at any cost," said Viet Steel chairman Do Duy Thai.
Vinh said the Ministry of Planning and Investment had asked the Government to create a law on SMEs by the end of 2015. The ministry hopes the law will help with company formation, training, preferential lending, market access and brand name development.
The ministry reserved VND500 billion ($23.81 million) to assist SMEs in 2015, according to Vinh. It aims to facilitate the development of nursery centres for enterprises and people who have good business ideas and need help with loans, machinery or experimental facilities.
Source: VNS
Related posts