Ordinance on Market Management
( March 20, 2017 | 1,422 views )
With effect from this month, the Ordinance on Market Management (the Ordinance) creates a common and transparent legal framework for examination and inspection operations of the market management force.

Consisting of eight chapter and 46 articles, the Ordinance prescribes the position, functions, organization and examination and inspection activities of the market management force; the coordination and responsibilities of related entities, and entitlements and policies applicable to market management officers.

Market management force

As per the Ordinance, the market management force has the functions of preventing, combating and handling the trading in smuggled goods and production of and trading in fake and banned goods and those of unclear origin; infringements upon intellectual property rights; violations of quality, measurement, price, food safety and trade fraud laws; and violations of the law on protection of consumer interests.

This force is organized at the central and local levels on the principle of centralized and unified management. It will operate in places of goods production and trading and service provision of organizations and individuals; in places of goods gathering and transshipment, airports, railway stations and car terminals; and along cargo transport routes in Vietnam, excluding customs operation areas.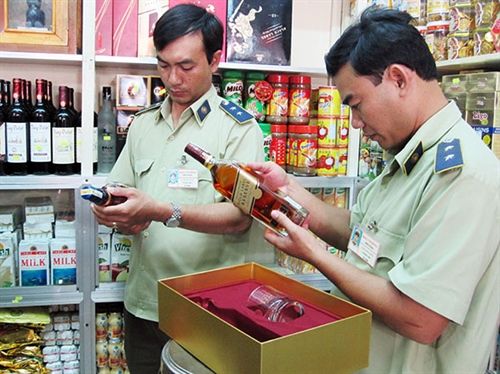 Examination and specialized inspection activities of the market management force

The scope of examination by the market management force is defined in Article 17, covering: (i) examination of the observance of law in goods trading and service provision; (ii) inspection of production facilities with respect to the fields and types of goods under the management of the Ministry of Industry and Trade; and (iii) examination of the observance of law in other fields in which the market management force is assigned by the Government to examine and handle administrative violations.

The examination will be conducted in three forms, namely periodical examination, specialized examination and unexpected examination, and requires a written decision of a competent person. Decisions on periodical or specialized examinations must be issued on the basis of approved examination plans. No more than one examination may be conducted in a year as to the same issue and entity subject to examination.

An examination must not exceed three working days from the date of announcement of the examination decision. For a complicated case or matter, this period may be extended up to five working days.

Specialized inspections conducted by the market management force will be regulated by the Government.

Regarding coordination in examination activities of the market management force, the Ordinance clearly defines the duties of related agencies. Market management agencies will be responsible for conducting examinations within the scope of examination and under the guidance of competent state agencies. For examinations related to many sectors and fields, market management agencies will conduct these examinations in coordination with related agencies. Specialized state management agencies will take charge of examining organizations and individuals in their respective assigned fields.

Rights and responsibilities of examined entities

To ensure lawful rights and interests and the right to freedom of business of organizations and individuals in conformity with the Constitution and law, the Ordinance clearly defines rights and responsibilities of entities subject to examination. These provisions also aim to limit negative activities of market management officers.

Under Article 30 of the Ordinance, entities subject to examination have the right to be notified in writing of periodical or specialized examination plans. For unexpected examinations, they will be notified of the examination content and time when the examination decision is announced. They are entitled to refuse an examination if having grounds to believe that the examination does not comply with this Ordinance and relevant laws. They have the right to give explanations and present their opinions and evidence to protect their lawful rights and interests relating to the content of examination. They are also entitled to request the examining agency to make public corrections or apologies and pay damages in accordance with the law on the State's compensation liability if having grounds to believe that the examination and handling are illegal, affecting their reputation or honor and causing material damage.

Responsibilities of entities subject to examination are defined in Article 31. They must strictly abide by examination decisions issued by competent persons. If refusing an examination, they have to provide written explanations as well as documents and evidence to prove that the examination is illegal. They must obey the requests of competent authorities for examination and temporary seizure of goods, papers, production and business equipment showing signs of violation of law at their goods production, sale and storage places.
Source: http://vietnamlawmagazine.vn
Related posts