Property rule hurts firms, buyers
( February 9, 2015 | 1,334 views )
The new regulation making it mandatory for property developers to make deposits is hurting both enterprises and home-buyers, as it is expected to be eventually absorbed into the selling price.
Le Hoang Chau, chairman of the HCM City Real Estate Association (HoREA), made the remark at a conference to review the real-estate market, which was held in HCM City on Thursday.
The newly promulgated regulations require investors to deposit 1 to 2 per cent of their total investment when they are allocated land by the State, leased land, or permitted to change the land use purpose of allocated land to execute investment projects.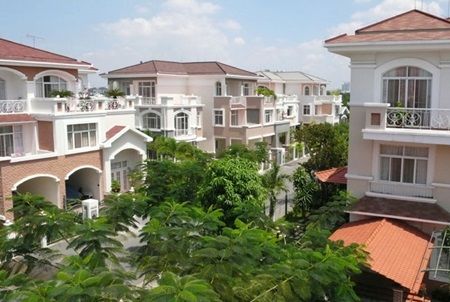 Investor will also have to pay a guarantee fee of 2 per cent out of the total guarantee value.The new rules were supplemented both in the 2013 Land Law's Article 58 and amended Investment Law 2014. In addition, the revised Real Estate Trading Law 2014 stipulates that investors have to pay a guaranteed amount of money for property, which will be calculated by banks in the future.
"The new regulations have resulted in two new factors emerging in estate price structure, including deposit and guarantee costs, which will further burden home-buyers," Chau said.
He added that the association was opposed to the implementation of the regulation. If customers asked for the guarantee, investors would implement it for each apartment under the agreement, but not all buyers would agree to it.
It also suggested that paying the deposit should be excused on projects that have received complete site clearance. The deposit level should comprise of costs for land and infrastructure, instead of total investment for the whole project.
However, lawyer Truong Thanh Hoa said the regulations would help choose investors with full capacity, though they would only cause more difficulties for enterprises. This would ensure safety for the home-buyers.
Difficult for foreigners
Lawyer Hoa said housing ownership for foreigners in Viet Nam was still difficult though the law on the issue was more open.
According to Hoa the difficulty is that foreigners are only allowed to own less than 30 per cent of the apartments in a building and 250 apartments in a ward.
For example, all of Phu My Hung projects and several other projects are located in District 7's Tan Phong Ward, where many foreigners reside.
If foreigners are limited to buying 250 apartments or houses in a ward, it will create problems for both investors and buyers in these areas.
This is the reason there are special regulations for big cities, such as HCM City, Ha Noi and Da Nang, which have a lot of foreigners.
The association also proposed simplifying administrative procedures for Vietnamese abroad to create favourable conditions for people to buy houses.
Source: VNS
Related posts