Vietnam, Czech to bolster bilateral trade
( May 18, 2015 | 1,594 views )
Vietnamese State President Truong Tan Sang and President of the Czech Republic Milos Zeman on May 11 discussed a host of measures to foster linkages in various sectors, especially bilateral trade and investment, to fully tap potential of both sides.
During their talks in the European country, the two presidents agreed the effective Inter-Governmental Committee on Vietnam-Czech Republic Economic Cooperation mechanism will continue facilitating ties in infrastructure, energy, telecommunications, public transport, agricultural mechanical engineering, electric and medical equipment, construction materials and food processing.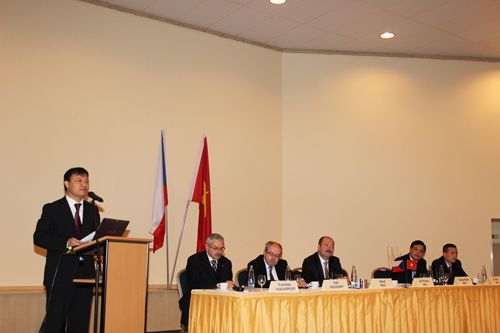 The two sides also concurred to strengthening cooperation in education-training, national defense and security, science-technology, culture-sports-tourism, and transport, according to the government's portal chinhphu.vn.
The two leaders agreed to hold a series of events celebrating the 65th anniversary of diplomatic ties, including photo exhibitions, film screenings and art troupe exchanges.
The Vietnamese leader asked the Czech Republic to continue its official development assistance for Vietnam's projects in the environment, waste treatment, community healthcare, insurance system reform and hospital construction.
President Zeman stressed that as an active member of the European Union (EU), the nation backs a strengthening of relations between Vietnam and the EU.
The Czech Republic has ratified the EU-Vietnam Framework Agreement on Comprehensive Partnership and Cooperation (PCA) and would urge the EU for early approval, he said.
The leader also pledged to push for the signing of the Vietnam-EU Free Trade Agreement, while simultaneously recognising Vietnam as a market economy.
Regarding East Sea issues, both sides agreed that disputes should be settled by peaceful means in line with international law, the 1982 United Nations Convention on the Law of the Sea and the Declaration on the Conduct of Parties in the East Sea (DOC) for peace, stability, safety and freedom of navigation and overflight in the region.
Source: http://www.intellasia.net/
Related posts