VN firms urged to tap fair trade potential
( June 22, 2015 | 1,688 views )
HA NOI (Biz Hub) — Fair trade certification would give Vietnamese exporters of tea, coffee, cacao, spices and handicrafts a huge advantage in expanding their market, but enterprises that qualify are far too few, experts say.
The lack of a national policy on fair trade development meant that such practices were still sporadic and disjointed with very weak links between sellers and buyers, and even between fair trade firms, Nguyen Thi Hong Minh, a lecturer at the National Economics University, said at a workshop held in Ha Noi last week.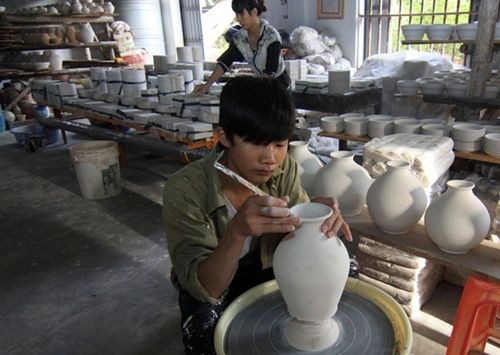 Other experts noted that there were just five enterprises and production facilities in handicrafts that had received the Fair Trade certification, while the coffee industry had 11 units and the tea industry, two units. There were no firms or facilities in the cocoa and spices industries that qualify for the special certification.
Awareness of fair trade practices was different in each industry, Minh said.
A recent study found that 80 per cent of enterprises in the coffee industry were aware of free trade certification, 75 per cent in the handicraft industry, 56 per cent in the cacao industry, 54 per cent in spices, and 27 per cent in the tea industry.
Demand for fair trade products in the domestic market was also very low, with just 24 per cent of consumers aware of the certificate, Minh said.
The market for fair trade products was mainly outside the country, and while its scale is narrower than non-fair-trade products, it was growing rapidly, she added.
She said fair trade was good for sustainable development of tea, coffee, cocoa, spice and handicraft industries, as also assuring benefits for vulnerable producers, she said. Boosting this practice would take a concerted effort by all stakeholders including producers, enterprises, buyers, and policy makers, she recommended.
Fair Trade is an international movement that seeks to establish and develop a global trading system based on the principles of equality in production and business and respect for a sustainable living environment.
It has been accepted worldwide for nearly 70 years, and with consumers more and more concerned about the origins of goods and the conditions in which they are produced, the trend to choose fair trade products is only likely to rise.
The workshop was held to announce the report on the assessment of Fair Trade development potentials in Viet Nam's tea, coffee, cocoa, spice and handicraft industries.
The report is a part of the project to promote fair trade in Viet Nam. It was funded by the European Union and jointly compiled by the Viet Nam Rural Industries Research and Development Institute (VIRI), the Viet Nam Tea Association, Viet Nam Coffee and Cocoa Association, and the Viet Nam Handicraft Exporters Association (Vietcraft). — VNS
Source: http://bizhub.vn/
Related posts